---
10-09-2005 Regencia &gt Povoacoa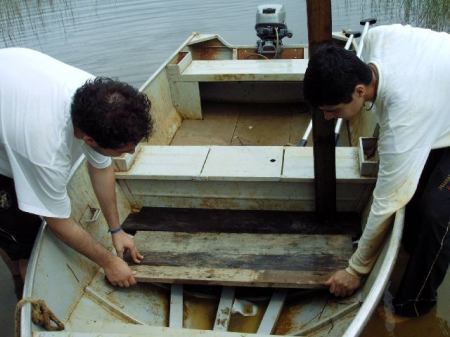 Ball room floor made by Alessandro and Felipe

At the moment we are in Provoacoa. In a straight line this is only a few kilometers away from Regencia but getting here cost us about 4 hours because we had to get to a bridge crossing Rio Doce. After the bridge it is about 32 kilometers downstream again and the road is very bad. Twenty kilometers per hour was about the maximum we could reach with the boat behind us. Every time I shifted to third gear immediately a deep hole would appear in front so we had to take it very slow. The scenery was very beautiful though so while I was focusing on the relief right in front the rest could appreciate tropical fruit plantations with cacao and bananas alternated with an occasional view on the river. We finally arrived with everything still in one piece only to find out that we lost the bottom of the boat. By now this is already fixed by our handymen. They found some wood laying around our campsite and arranged a saw. The floor is better than before; we are considering organizing ballroom dancing cruises :-)

In Regencia we finished without any major problems. I was a little bit shocked when I found out that I unscrewed the wrong part of the oxygen meter probe and by doing so had torn all the little wires inside. Oeps :-/ I know it is a weak excuse, but the manual was really not clear!! John: I am sorry to have injured your equipment but don't worry we got it all wonderfully fixed! Together with Juarez of the Tamar project we drove to Regencia: a very small town that does not have any infrastructure nor restaurants – we always ate at the gas station in the 'center' – but suprisingly it does count with a real electrician! He was not at home… so we chased him around the village and when we found him he fixed the oxygen meter in no time. It works better than never. What a relief!

We dropped Juarez of at the Tamar station and went on to the next lake. This was going to be the last lake together with Caique. We were in for a surprise (this work never gets boring!). At the end of the day we met a very angry land owner that wanted us out of his property immediately. The nets that we had just put in place had to be left behind. It turned out to be a misunderstanding. He thought we were working for the Brazilian government that wants to create a nature reserve on his land. Furthermore, he had understood that we would only take a quick water sample and now we were here already for the entire day plus we wanted to come back tomorrow. 'HOW COME YOU ARE SO DIRTY' he snapped to Caique 'if you are only taking water samples'. Pictures were taken from our car, trailer and ourselves, but after we explained everything the situation cooled down. We could return the next morning and turned 'how come you are so dirty' into our slogan :-)

The day after we changed team again. O senhor Geel and motorista Luiz came to deliver Rachel, Felipe and Alessandro. They took Caique back to Rio and Mina Gerais, but before doing so they also fixed the shortcut in the trailer connection so now the trailer and the car lights are all working again.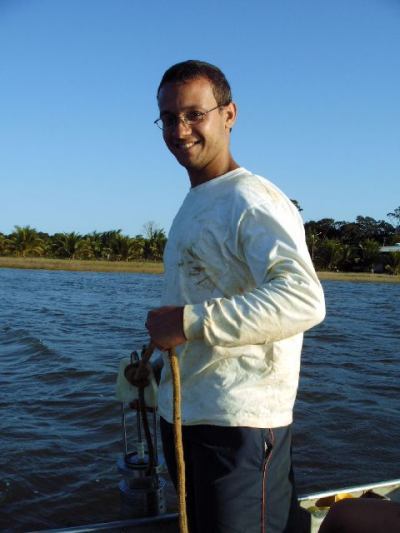 Caique


In Povoacoa we were welcomed by Rogierio. More then a month ago he had also helped us to find the lakes around here. He accompanied us to the first lake 'La Viuva' where we are camping now. Comfortably close to the lake. The camping itself is very basic (stress 'basic') but very cosy as well. Because it is a national holiday there are some families camping here as well and the ladies enjoy to give us food. Unfortunately at night we are too tired to join them in their Forro parties (Forro is a Brazilian dance) but happily we can also enjoy the music (always the same cd so I can already sing along :- ) ) from inside the tent. The camping comes also with some other 'extras'. I will not list them all but the free wake up call (a cock that wakes up right next to our tent at 4:30) and 'bananas all you can eat' can not go without being mentioned.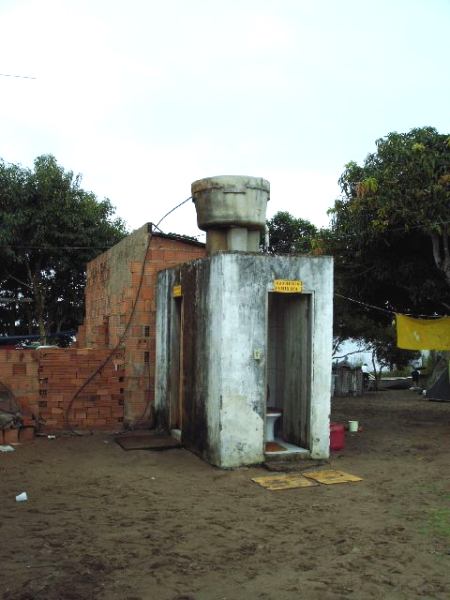 Tent
---

Previous | Overview | Next