---
04-09-2005 Broken erlenmeyer and again a snake (this time alive!)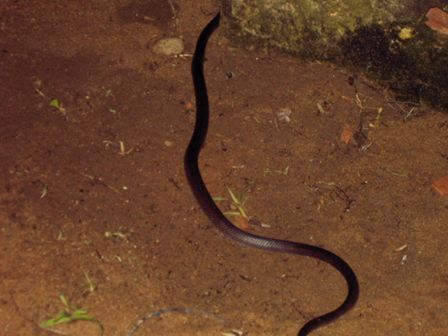 At this moment we are far far way from internet. I am sending this message with Vera to Rio where she can forward it to the website. We are staying at the Tamar project guesthouse near Regencia. It is a beautiful place almost on the beach in the middle of the restinga (native dune vegetation).
Our first day here was kind of inefficient. We decided to drive up and down the lake and set up the laboratory in the guesthouse. But of course we kept forgetting small but essential things 'at home' so we got tired by driving up and down picking up the forgotten items. The road is closed by various gates so driving from A to B (maybe 2 kilometers) takes a while. Also, our fabulous new anchor was way to light so we lost quite some time in making it heavier by tying some stones to it. And: we got stuck in the sand with the car.
Not really satisfied with the day we started breaking down the laboratory in order to convert it into our bedroom / kitchen again. Just 2 days ago I had proudly shown Vera all our field equipment and how almost everything is made of plastic. Almost everything… with the exception of an erlenmeyer that we use to filter our samples. By now you'll get where I am going. Yes, I broke the erlenmeyer.
We started to think immediately how we would ever get this thing replaced in the middle of nowhere. I started experimenting with a plastic bottle (which did not work) and thought about going to a local drugstore to see if they would have something applicable. Just at this moment Vera walked back in; she had found a treasure. Who could ever have imagined that here on the beach exists an abandoned laboratory full of glassware! We quickly found what we were looking for and repaired our filtering set. Unbelievable!
Still drifting on my happiness cloud I took a shower and without thinking I went outside to hang up my towel. While doing that I thought about the poisonous snakes in this area and how we were told not to leave the house without a flashlight. But I was just 2 meters away from the door and by now I was telling myself that it was not such a big deal. I turn around and of course… a snake of almost 1 meter long it crawling on the pavement between my feet and the door. I shouted to the others that where in side that there was a snake right there but it took them some time to believe me :- ) Anyway, the snake turned out to be not poisonous and the guard of the field station came to take it away. And so ended my day.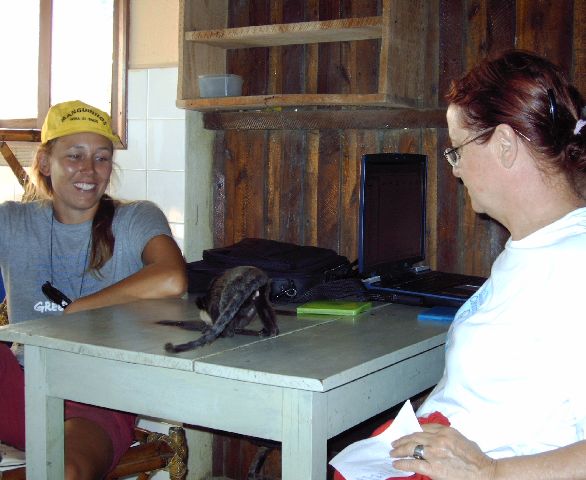 A monkey come to urinate at our table every morning
---

Previous | Overview | Next