---
29-08-2005 The anker (again!)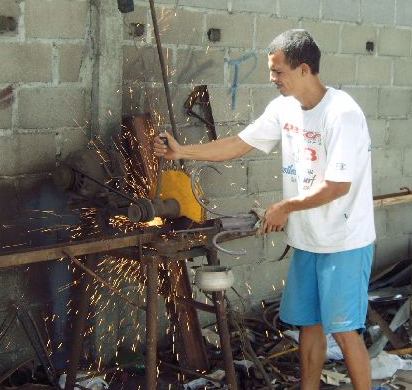 Let me first present our new team:

Vera ("I came here to work so tell me what to do") is on top of everything. She calls 'ahead' to the contacts at the next lake, interviews the people around the lake and finds out how we have to get to the next lake. With her mobile she is the spin in our organizational web. She prefers aquagymnastics above our daily boat-lifting-exercise but anyhow she participates everyday in getting our vessel from the trailer to the water while silently cursing Nestor who made her buy this heavy boat :-) (Nestor: the boat is really great to work in: stable and safe, three people can easily stand up and get around, but it is truly a bit on the heavy side! :- ) )

Uanderson: Not to be separated from his mp3-player and has to be fed with arroz and feijao on a regular basis. Only in the team for a couple of days and already a 'Salga-record-holder': he got the largest sediment core until now 70 cm. Always happy but particularly exited when we get a biggg breakfast.
Caique: Loves to lift the engine (and we love him because of this) and gets all excited when we start the dirty sediment work. He got stuck in the sand with the car, but above all he has a very contagious laugh!

It is very enjoyable to have yet again an enthusiastic group to work with. Equipment-wise we are doing 'mas o menos' :- / Remember that after our first lake where we realized that we did not have an anchor? Vera traveled half Brazil to get us an adequate anchor which she found in Campos. In the next lake already - while fighting salvinia – Gige lost this anchor. After that we started using a smaller anchor (a spare one that was actually mend for the fishnets). When Luciana pulled up the cord in Agua Limpa we discovered that this one was also gone… By now we realized that we were bad in making knots and decided to use a heave stone in stead of an expensive anchor, but with still about 10 lakes to go Vera decided to give us one more opportunity and bought us an new anchor for which she had to make yet another trip to Campos :- o
I am sad to disclose that this new anchor never got the opportunity to keep our pretty boat on its place. The shining new piece of metal was connected to a brand new rope with a fabulous secure triple knot but… unfortunately this rope was not tied to the boat. With an elegant throw I flung it into the lake where it disappeared into the sediment forever. I could not believe my eyes ooohhh Both Caique and I dived into the water (risking alleged alligators and - probably worse - sewage) but without result. We hired some locals to try, but no way it would turn up again. There we went back into the into the Stone Age again; we were apparently not ready for the Iron Age.
With still about 8 lakes to go we decided to give it one more try. Problem is that by now we are realllly to far away from Campos and this seems to be the only city in Brazil where they sell the type of anchor we are looking for :-) so we designed our own anchor and went to a blacksmith. Tomorrow we will try if our creation works.


---

Previous | Overview | Next