---
17-08-2005 Accidentes de transito



Together with Dona Wilma we left some of our good luck behind. On our way to the next lake we got lots in the inner city of Campos. Streets were getting narrower and narrower and at a certain point I could not get forwards or backwards. We got totally stuck and had to get out of the car to disconnect the trailer to turn it manually. Although we removed the trailer (with boat and I don't know how many kilo's of equipment) in record time we immediately caused a traffic jam until the horizon. I was amazed by the patience of the people behind us: no body honked the horn and various people offered to help! When we were all set to take off again, Korine quietly took her camera and took a picture of the jam we caused…
Out of the city, into the sugar cane fields. For the readers that never got lost in sugar cane field: in general the canes are about 2,5 meters high, there are canes everywhere and the fields are crossed by some dusty roads. This specific labyrinth was hiding Lagoa Agua Limpa somewhere in the middle. Two weeks ago I had been there already and marked the coordinates of the lake. We endlessly followed the 'go to' arrow on the gps but never found the access of the lake. Finally we called o senhor Benedito who was waiting there for us, but he could not give us any other hint then 'take a left turn at the 'somewhat lower sugar canes'' :- ). In the end he came to look for us with his own car and rescued us.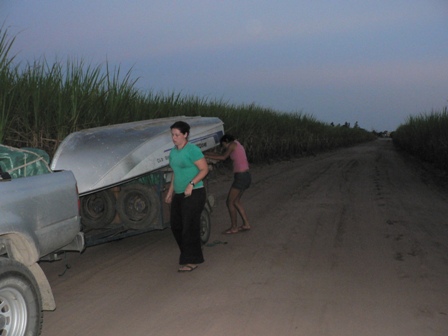 Almost lost the boat

Unfortunately, this was after a small accident. I have been driving in many conditions forward and reverse with the pickup, trailer, and boat and felt quite happy about my performances until a certain second in the sugar cane fields. I had to go backwards. Did not pay attention for a second. And all of a sudden the boat and trailer were standing next to the car! The angle between the car and trailer was certainly less than 90 degrees. Result: bumper damaged, small bump in the car itself and trailer twisted. That was not funny at all.
Happily we have been able to take the trailer to an authentic 'trailer maker' and for 70 reales (about 23 euros) he straightened everything and welled a reinforcing handle in the front. This made me feel much better again.
It did not stop here: some time later our outboard engine kind of gave up. It did not accelerate anymore and a combination of a dense Egeria densa bed (now I understand the name!) and a strong wind made that it took almost 2 hours to cross the lake. The lake was only two kilometers long but we had to stop all the time to get the plants out of the propeller and give the motor a pep talk.
Happily spirits kept high and the engine was also fixed for 70 reales. We used rhe day without engine to fix part of the fishing nets. It is interesting to see how we always meet the right people at the right moment, because this time we were assisted by a professional fishermen –o senhor Jocimar - who thought us some new knots.
Jocimar lives on the fish of the lake. He uses very long standing nets, very similar to ours (but really verrrry long) with which he catches about 7 kilos of fish per day. You can imagine that we did not catch much either. I am amazed by the low quantities and low diversity of fish we are catching over here. I have to admit that I do not really mind (this is an understatement, because taking fish out of the gill nets is really not my hobby) but it totally goes against the idea I had before we started working in Rio.
Until now we found few fish and lots of plants. Tomorrow we are off to Sete Puntas.


---

Previous | Overview | Next