---
20-03-2006 We finished!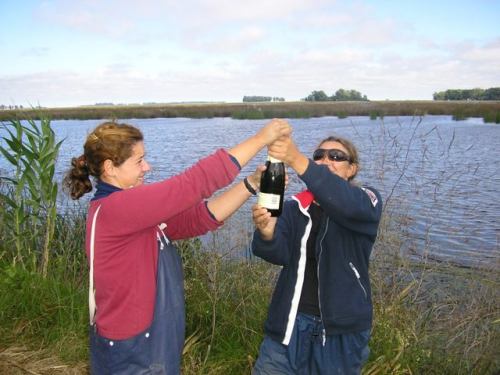 Finally we managed to find two more lakes. Two beautiful ones fully dominated by macrophytes and full of large predator fish. We clearly remembered what this type of fish can do with our nets so we decided to put the nets in at 3 o' clock in the morning and get them out around 7 pm. I personally thought it was great to conclude our dataset in concordance with the Salga-fieldwork-slogan: "Si puedes sufir aprovecha!" (If you can suffer: go for it!). We got up at 2 in the morning, drove to the lake, got all the equipment ready and placed the nets. Back on the shore we killed time by drinking good wine and eating nice cheese until we could really not stay awake any longer and napped a bit in the car. The last night Gige and I set off to place the nets. The sky was clear and full of stars, we zigzagged trough the scirpus marking the places where we left the nets with the gps. When finished we turned of the engine and just watched the sky. Incredibly beautiful.
After finishing lake Mirador, lake AR83, we symbolically ended the Salga fieldtrip. Pitty we did not arrive to number 100, but we got close. I imagined hearing Blof singing 'Ik ben bijna waar ik zijn moet. En mocht ik het niet halen, dan was ik toch dichtbij' (I am almost where I have to be. And in case I do not make it, at least I was nearby) while we prepared our closure ceremony: Nestor had brought the cork of the first champagne we drank during the project (after having finished the lakes in Rio Grande do Sul) and together with the champagne-cork-of-the-day we put it in a sediment core. Gige and I included a written message, filled it up with gravel from Tierra del Fuego and Nestor threw it into the last lake.
And that was it. I can still not really gasp that the fieldtrip has ended. It was such an enriching trip. We took so much more home than a pile of samples ready to be analyzed. I do not see how I can write a short acknowledgement in my future papers: so many people to be thanked, so many places that worked inspiring. It sure was a trip of a lifetime.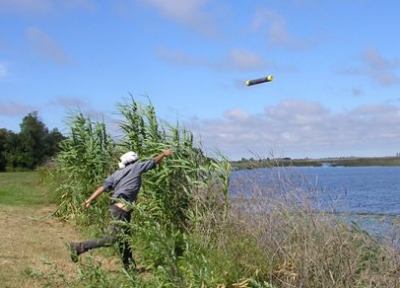 Message in a corer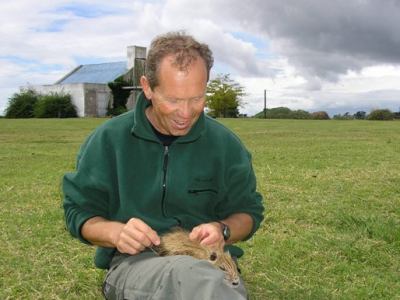 John and the vicious nutria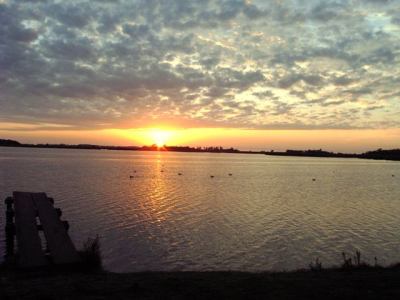 Sunrise at laguna Rosita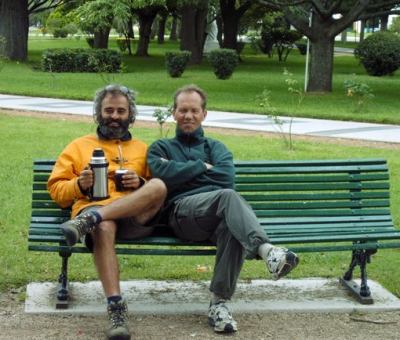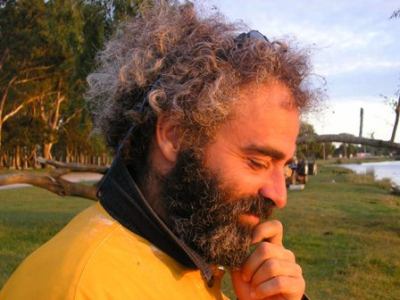 Nestor thinking hard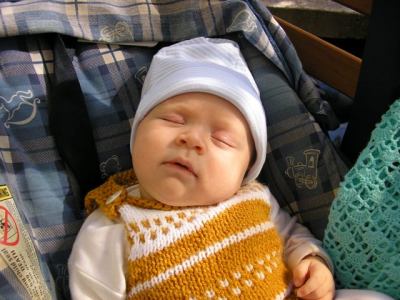 The new Salga mascota Marcitos





---

Previous | Overview