---
10-03-2006 Salga goes touristy


Not much has changed since last time I wrote. We have not sampled a single extra lake :-(. After Erik left from El Chalten we had to wait 2 days for Nestor to arrive and thus all of a sudden we had a free weekend! The first day we dedicated to sleeping and the second day we climbed the Fitz Roy until the glaciers. That is a walk of about 20 km, climbing 750 meters through an amazing landscape. We walked in forests, crossed small rivers, passed lakes, heard many many birds, ate some stroopwafels and were amazed by the beautiful view on the Fitz Roy. This was surely one of the most stunning hikes that I have made.

Next day we left in the direction of Trelew about 1400 km to the North where we'd found 5 lake-candidates on the satellite image. It was a 1.5 days drive with large stretches of gravel roads without any traffic. We were only accompanied by dust and some occasional Ñandus and Guanacos.

We had to go trough the town of Tres Lagos and of course we could not pass by without having a coffee at the hotel there. We took some great pictures of John and the locals and when we finally said goodbye to the hostess we saw the tears in her eyes. It gave us a strange feeling. We met so many lonely people during this trip who were so happy that we visited them, and we know that most likely we will never see them again.

In Trelew we found out that some the potential lakes were actually basins that received waste water of the wool industry. The other lakes turned out to be too salty. We were quite disappointed and decided to cheer ourselves up by a trip to the famous Peninsula Valdez. After a day of penguins, sea elephants and sea lions we felt better and continued our trip north on our last mission: to find some macrophyte dominated lakes in the province of Buenos Aires. We had been working in this area the year before but only two of the lakes we sampled had plants and now we wanted to sample so with plants.

We left early in the morning, drove the whole day and stopped in Caleta de Olivia. Ate, slept and got back into the car again. Somewhere we took a wrong turn and only found out more than 100 km down the road. We almost fell without diesel again and using our last drop of diesel we found a gas station. Here they told us it was very common that people got lost here because the signs on the roundabout 100 km back has an arrow pointing in the wrong direction (????!!!). We filled up the tank and routinely checked the car and the trailer. The picture says it all: the tires of the trailer were almost doing a split. On closer inspection we found out that the axis of the trailer was tearing apart. Afraid to drive too much further we continued the wrong way to Neocochea where we found a very handy man who fixed everything for us within 2 hours. The trailer is getting better and stronger every stretch of the trip!

At night we arrived at Gonzalez Chavez where we stayed in the same hotel as last year. MMmmm they have great media lunas there for breakfast. (smikkelen en smullen) Early in the morning we went to visit Veronica and Fabio in their house next to the lake that we sampled exactly one year ago. It was if they were expecting us: the "mate" and the "facturas" were already on the table! It looked like we never left and we all would of loved to stay much longer. But the fun tour was over :-), it was about time we found another lake!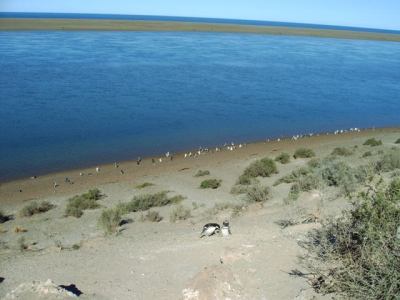 pinguins at peninsula valdez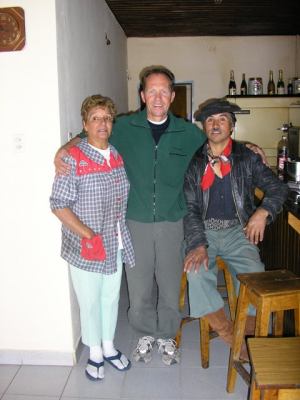 John and the locals of Tres Lagos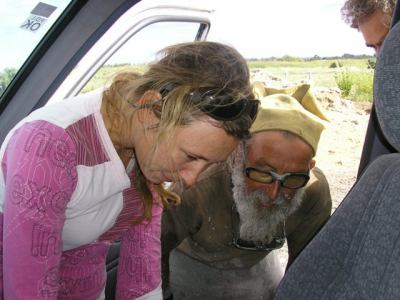 man helping us to find lakes around Trelew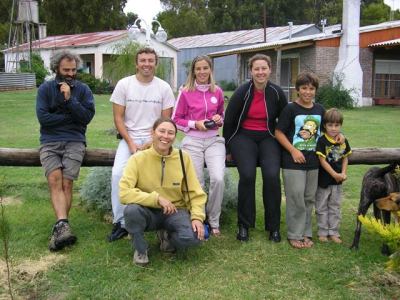 Marochi family.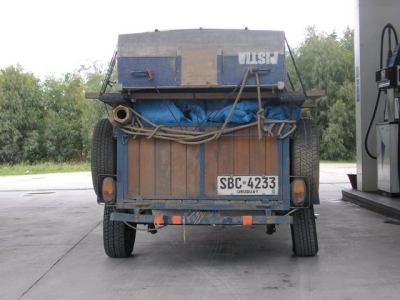 trailer with broken axis



visiting Fabio and Veronica



---

Previous | Overview | Next