---
18-11-2005 Goodbye Natal!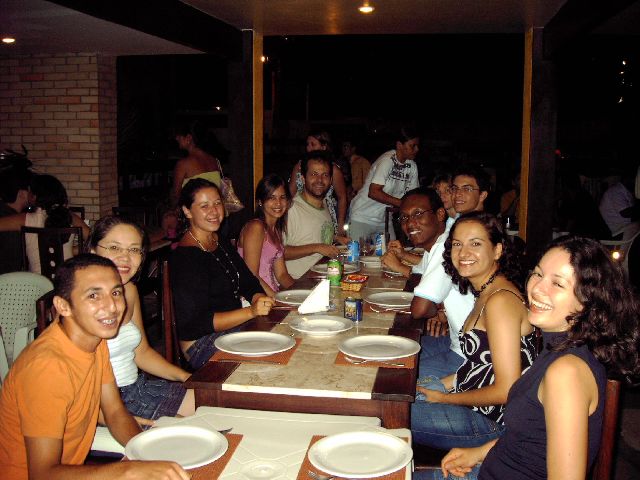 Goodbye party
The last day of our stay we had a nice goodbye party at Punta Negra with all the people that worked with us in the field. The plan was to go and dance forro as well, but unfortunately we did not find any forro place open. Spontaneously Elinez, Janderson and Vanessa started to sing their repertoire of forro songs and that is how Gige and Rosemberg and Fabricio and I found ourselves dancing on the rhythm of a a-capella-forro. 'Soy um pistoleiro, um pistoleiro do amor….' ;-)
End well, all well? Not quite: the last day in Natal had some surprises for us. I had a small but certainly not insignificant accident with the car. Really very unfortunate: pity pity pity :-(
Two hours after this incident Coca dropped us of at the airport. We arrived about 1.5 hours before liftoff and those 90 minutes turned out to be very busy ones. Even before we tried to check in we were already intercepted: the cool boxes with samples were not allowed to get on board. WHAT??? I was about to try to get the stuff on board as hand luggage knowing that this might not work out, but that we were totally not allowed to take the frozen water (because that's all it is) with us was a complete surprise.
Next thing that occurred to us (after talking to the manager, trying to explain the situation, stressing the complete harmfulness of the samples, blablabla) was to send the samples by cargo. Not with Gol (the company we were flying with) because they would not allow that either. So I went to Tam. Their cargo office is somewhere outside the airport. The people there were very friendly and after I explained the situation to yet another manager they agreed on taking the boxes. When they put the largest box on the scale however, we all saw that it was leaking. Apparently there was a hole somewhere :-( 'Well, yes, this complicates things' said the lady. Obviously they did not want to get their other packages wet. I can understand that. I proposed to get it rapped in plastic at the airport and come back with the rapped boxes. They had to think about that…. but I did not have time, my flight was about to leave!! OK, they understood that and ok they would take the samples. JIPPIE!!
Before I started my sprint back to the airport to get the rapping done I asked at what time we could expect the boxes in Porto Alegre. Hmmm…..When they checked this on the computer they realized that the last flight of today had already left so the samples had to wait until tomorrow. By that time everything would be defrosted…
We were not getting anywhere here. I thanked them for their kindness and left. The only other thing I could come up with was to send the samples back to the university by taxi. I quickly found a taxi driver, explained him the situation and gave him the university address and the names of people that could possibly be there. I told him that there was work of months in these boxes and that it was extremely important that it would arrive ok. He told me I could relax and that everything would be ok :-)
Back in the airport Gige was still fighting with the flight attendants to get the zooplankton samples on board. First they asked her to get the box rapped in plastic and now it still had to pass trough a X-ray apparatus but by now the departure time was approaching and there were still longgg queues of people that had to get on board. The flight attendants were a bit stressed and certainly not happy about yet another problem case. It reminded me of one of these reality shows on tv where you see ground personnel dealing with difficult passengers on large international airports. I bet they never had a 'zoo-plankton situation' before :-) Finally we managed to speak to some Gol –person and to make a long story short: the zoo samples could come along. The reasoning behind this was completely unclear to us: the zooplankton samples are also liquids and the same arguments for not taking the frozen water samples could go for not taking the zoo samples, but who were we to argue this…
Back to the frozen samples: Before boarding we wanted to make sure that somebody at the university could receive the samples that we send back by taxi. We called all our friends and 'field partners' but no-one was at the university, Coca was out of reach and at the university itself nobody picked up. In the end we asked Wanessa – who was at home – to help us out trying to arrange something. Leaving the fate of the boxes in her hands we got onto the plane :-) Two days later we got - to our relief ! the news that they were safe and sound in the freezer. Now all that has to be done is to send them in a new box, nicely rapped, to Rio and Porto Alegre.


---

Previous | Overview | Next