---
10-11-2005 Almost finished!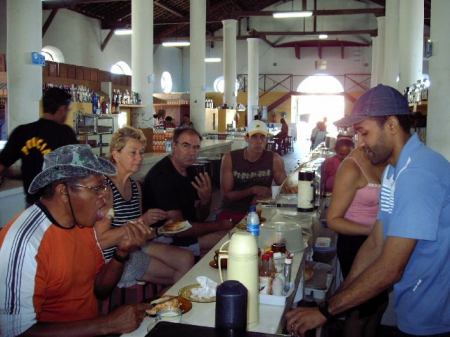 With only one lake to go we changed team again; this time Edson, Gustavo and my parents (!!) joint. It was a small lake; we had 3 strong men helping us and a mother that cleaned all our equipment so all the elements were in favor. Lake 'O Mineiro' was like a dessert, not only was work easy but it was also a pretty place and a man that offered his veranda for us to work brought some fresh coconuts. Lake 70 (!!) was a laid-back lake.
It had been a while since we had seen aquatic plants, but here there were a lot. I am very much amazed by the absence of plants in the reservoirs. I was expecting to find much more floating plants in these eutrophic environments. I wonder why there are nearly completely absent.
…and then we found out that I had forgotten the stable isotope samples in Cruzetas, the reservoir that we sampled before 'O Mineiro'. Over there we had stored the samples in the freezer of a man who lives next to the reservoir. When we had finished our work and wanted to leave the man had disappeared. We looked for him in bars and at the market but we were not able to find him (not knowing his name did not really facilitate the search :- ) ). However… the door of the house was open… Finally we decided to go inside and get the samples out of the freezer ourselves. I felt a bit uncomfortable doing that and although I took care to take all the water samples in my hurry to leave the house I forgot the stable isotope samples. When we found out about it we were already 4 hours away…
We knew the name of the institute where the man was working, found the telephone number in the telephone guide and the next day I tried my luck and called the office. I had no idea what to say. 'Hello I am the Dutch girl that was taking samples in the reservoir Cruzetas last week and I am looking for the man that lives next to the reservoir'??? (And all of this, of course, in Portuguese.) Happily the guy himself picked up the phone. I did not get any further than 'Hello I am the Dutch girl' and he already said 'Ah, how are you doing. You left some samples didn't you?' He offered to send them to Natal by buss in a cool box with ice. Great: this man understood exactly what had to be done! Saved me a trip of 8 hours!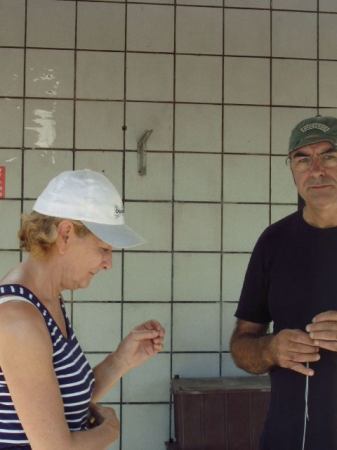 Mum and dad visiting and fixing a net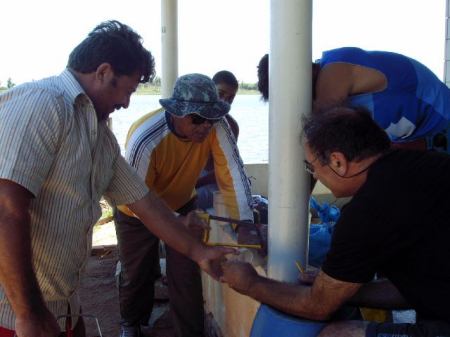 The pipe sawing team
---

Previous | Overview | Next