---
27-09-2005 Natal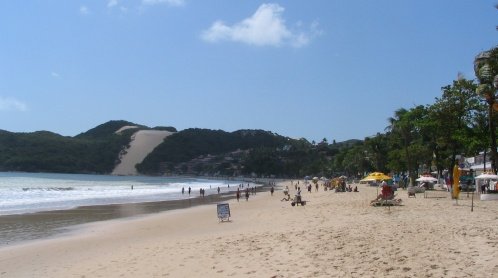 The beach at Ponta Negra

Gige and I arrived in Natal almost 2 weeks ago now. The first days we did absolutely nothing but sleeping, going to the beach, eating and other tourist stuff. We could have picked worse places to take a break! Natal is a nice city situated in the middle of the dunes with both to the north and to the south beautiful beaches. Some with huge waves others calm, some with a couple of lost camels and one even had dolphins!

The vacations were obviously way to short and before we knew it we were analyzing chlorophyll in Coca's laboratory. Fortunately Coca had found someone that could fix our nets, so that saved us a lot of (valuable beach-) time. On Monday we were off to the first lake again.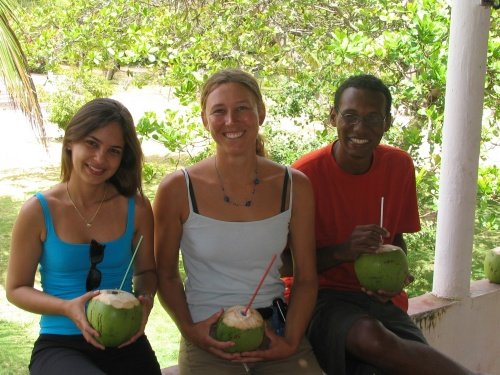 Michelle, Sarian and Rosemberg


The group consists of Coca, Rosemberg, Michelle and two diehards. On Tuesday we went to the airport to receive Egbert. With the six of us we are staying in the house of Michelle at the boarder of one of the lakes and very near a couple of other ones. Very comfortable! The house comes with its own itinerary: we can not leave the house between 22:00 and 6:00 because of 3 enormous dogs roaming the premises.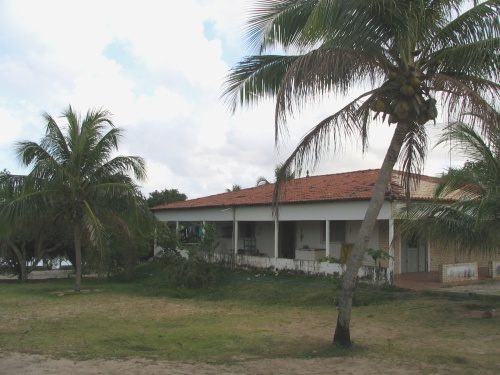 Michelle's house: very comfortable!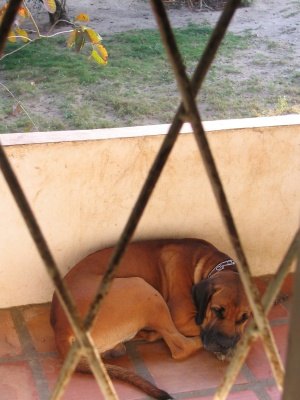 One of the three guards

Dogs are not the only "pets" around. Last night I woke up because I felt some weight on my leg. Still very much a sleep I reached out to my leg and "it" disappeared. Hmmm, strange… I decided to turn on the light and risk getting hit by Gige's pillow (she does not like it when I turn on the lights in the middle of the night :-) (to kill mosquitoes)). Guess what I saw next to my bed. Thrills, suspense… hear the horror music on the background. I looked straight into the eyes of a very ugly and very big frog. It did not look like it was planning to go anywhere so I decided to motivate it a little bit by hitting it softly with my slipper. It jumped 30 cm further on my mattress and stayed there. Another stimulus… 60 cm. At first I planned to escort it out of the house, but it entered the living room and I decided that was just fine and went to sleep again. I was not bothered by any mosquito that night. Thanks to my prince?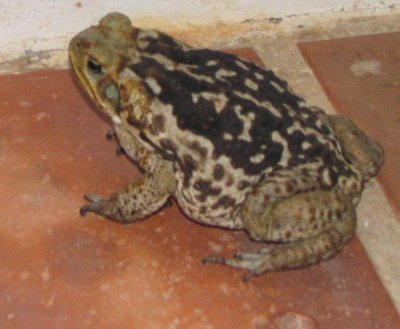 Sarian's prince?
---

Previous | Overview | Next