---
23-10-2004 Optimal conditions for field trial


As we speak, we are back in Montevideo. We spend whole last week at Punta del Este situated about 1.5 hours driving from the capital. We used this week to try out our field protocol and our equipment. Furthermore, we thought about additional things to measure and we made an estimation about the time we would need per lake.
I think we did pretty well. Some plans however, seem hard to execute in the field. One of them concerns the denitrification hypotheses denitrification increases towards the tropics. To test this, we wanted to compare 15N values in submerged macrophytes at the inlet of the lakes and in specimens growing within the lake itself. In lakes with a high denitrification rate we would expect the differences in 15N value between the two sites being higher than in lakes where denitrification plays a modest role.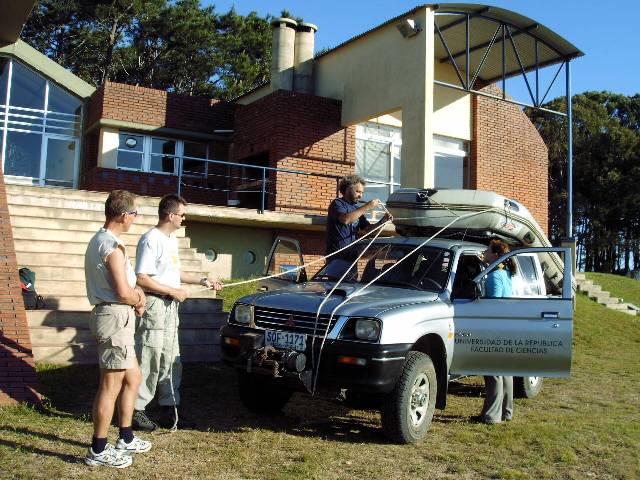 However, since the first selection of lakes successfully complies with the selection criteria of having minimum riverine influences, we now count with zero lakes that have an inlet. As so, the denitrification measurements can not be conducted as we thought. If anyone knows of an alternative that could serve us - taking into account our field trip conditions!- we are welcome suggestions!
Here, I should mention that the first 35 lakes in the south of Brazil, Uruguay and the north of Argentina were selected with the indispensable help of our team members David Motta in Brazil and Juan César Paggi and Susana José de Paggi in Argentina.
Overall the trials went very well. Some equipment though, is still at the customs office and others packages supposedly ended up in a pile that still has to be registered in the administrative system of the national mail service. I am afraid that the field conditions will not be so ideal as we found it this week: the temperature fluctuated around 27°C with a nice fresh breeze, next to Laguna Blanca is a laboratory which kindly offered their facilities, we slept in a beautiful villa in Punta del Este and enjoyed a great parrillada. Maybe not representative for the rest of the trip but optimal conditions for a try out.
This week we´ll be at the Limnology Department in Montevideo adjusting protocols and adjust material in order to optimize our fieldwork. ¡Hasta ahora todo barbaro por aca!


---

Previous | Overview | Next