---
30-01-2006 Last days in Tierra del Fuego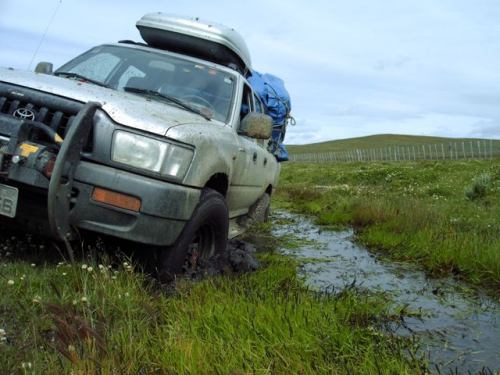 The last days in Tierra del Fuego were not very productive. On Thursday morning we said goodbye to Marten and picked up Frits from the airport. We dropped Frits of in the hotel. While he was resting and Marten was waiting for his plane we got stuck in the mud with the car and trailer. The lake we wanted to sample had to be accessed by a muddy track. In one of the wettest parts we sank in the thick mud. We tried to get out using all the gadgets of our ponderosa. Four wheel drive, digging in a tree trunk to use the winch… nothing got us out. We decided to try to get help. Gige got her mobile phone out of her green sock, climbed a mountain to get a signal and called the owners of the estancia who were just about to have lunch. Happily they were so kind to come and help us. We waited for about an hour and had to endure some macho jokes (: 'How come Marten had not got stuck yesterday at the same place and 3 women got themselves in an impossible position?' Of course they overlooked the fact that we didn't have the trailer with us the day before. And now I get to think about it again, I think it had also be raining a lot that night ;-) ). Anyway, they got us back on the track in no-time and we continued our trip to the lake.

We arrived around 2 a clock. Started to unload everything and left of to do the macrophyte transects. We started rowing until it was deep enough to lower the outboard engine. We rowed and rowed but it never became deeper then 30 – 40 cm. $%#@@@@ That is not deep enough for us.

A little bit disappointed we packed everything again. At least we managed not to get stuck on the way back. We got back at the hotel at the end of the afternoon.

Next day Susana left and Soledad, Frits, Gige and I set of to another lake on the same estancia. Happily this one was near main road of the island. Hoping that we would have more luck this time, but not entirely sure of our good fortune we lowered the boat. Cautiously we decided to check the depth first. Result: This lake was extremely shallow as well. That was our last option in Tierra del Fuego. Way to soon we had to leave the island. We will definitely come back for a holiday!




Saturday night after driving 13 hours we arrived in Rio Turbio. We had crossed 4 customs offices without any problems! We found out that we could cross the boarder much quicker if we did not mention that we also had a trailer!! :-) (Remember: the problem is that we are pulling an Uruguayan trailer with a Brazilian car. Technically speaking this is no problem, but paper wise it complicates things.) You might wonder how the people at the boarder do not realize that you are pulling a medium sized trailer full of material and a boat on top… I can explain you that in detail some time over a beer, for now I'll just reveal that 'ignoring' the trailer or 'pretending that it does not exist' helps a good bit.

On Sunday (yes, we people never rest) we started looking for lakes in the surrounding of Rio Turbio. The hotel owner had mentioned a reservoir and we decided to check it out. It had just over 30 hectares, contained freshwater and was quite nutrient rich. Perfect for us! We were told that we had to ask permission to the mayor to sample it and of course this was difficult on a Sunday. We decided to continue the search for more lakes and come back tomorrow.

We used satellite images and our real-time-gps-connection to find the lakes that we had identified on the images earlier on. Unfortunately many of the lakes turned out to be extremely shallow. We concluded this after seeing flamingos walking around joyfully at the center of the lakes. We did have a short discussion about whether flamingos are also able to swim (? : - ) ) but we decided they couldn't so we did not bother to get the boat in.

Some clearly different lakes (as far as we could seen on the images) were situated some kilometers from the road behind a mountain ridge. We were not sure how to get there (if possible at all) so we entered the first estancia we saw. They were just in the process of shaving a couple of thousand!!! Sheep. It was an amazing site. The estancia had it's own butchery, school, dog kennel and store. Enormous bags of wool were waiting to be transported. It was an amazing site.

With the owner we chatted about the declining price of wool on the world marked and he subtly pointed out that - for example – I was not wearing anything made out of wool: all synthetics :-/

No lakes on this estancia that fitted in our scheme and we went to see the neighbors. They had lakes, but told us to come back on Tuesday. That was the end of our day.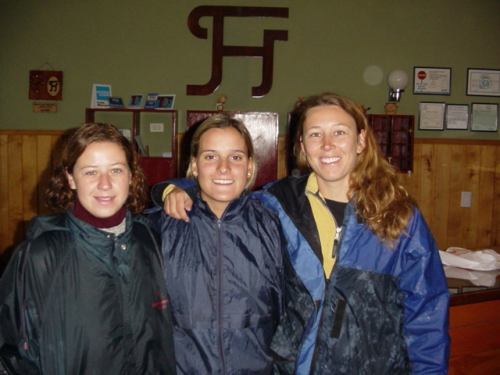 ---

Previous | Overview | Next