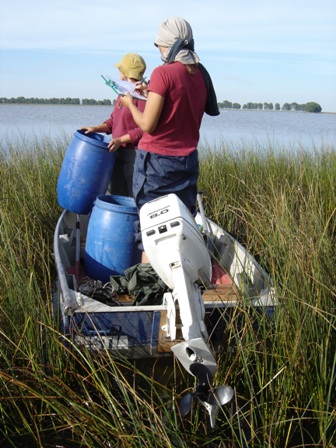 We were so full of the personal encounters in Chaves that we were afraid to go down hill from now on in this aspect. But we had not yet entered the town of Coronel Dorrego or a veteran on a bike who we met at the first traffic light, insisted to escort us to the town's hotel.

It was hard to find lakes with conductivity in our range. We spend a lot of time cruising dusty roads, crossing soy and sunflower fields chasing lakes that appeared on our 2000 Landsat images. Even though these roads are unpaved they are wider than the average highway. This seemed strange to me at first, until I saw the machines they use to harvest their crops. They are enormous and definitely need this kind of infrastructure.

We talked to dozens of farmers and lake owners. Gissell and I found ourselves compared to sunflowers but we baptized the next phrase 'quote of the week': (freely translated) "Very interesting this research that you guys are conducting. I am curious to know what the water quality of my lake is. But, by the way… do you not know a way to drain it?" This reaction exemplifies the general feeling of farmers with a water body in their fields. Although the lake is picturesque and they enjoy the wildlife in it, it mainly represents a problem. People enter without permission to fish, leave garbage, damage wires and when it rains productive fields are flooded. The government does not help in organizing the drainage in the region and people end up paying taxes for a part of their land that does not return any profits.